CNC turning of parts with versatile machinery
We provide CNC turning of parts up to 600 mm in diameter according to your drawings and requirements. We always adapt to your needs and therefore manufacture everything from prototypes to medium-sized series. Our professional staff specializes in their own areas of responsibility, and many of them have over 10 years of experience in their work, which guarantees high quality production.
We usually start from your drawings and can, if necessary, suggest improvements that might save our time and your money. Thanks to our long experience and professional knowledge, we can immediately see if something could be made easier or if the drawing's tolerance requirements, for example, are unrealistic.
Versatile machines are required for cost-effective manufacturing
The machine park consists of CNC lathes of varying sizes. The smaller machines have a spindle bore of approx. 60 mm, and the larger ones a spindle bore of Ø 60-115mm. We also have bar machines for parts below 75 mm in diameter, in which larger series sizes are usually manufactured. There is also an axis lathe that can handle longer parts. Some lathes have driven tools and several axles, and for simpler parts, there are two-axis lathes. The machines are run in 2 shifts for as efficient production as possible.
Different types of machines with different features are required to manufacture cost-effectively, and thanks to our professional and flexible staff and the versatility of the machines, we can offer our customers production at the right price range.
Do you want more information about our services? Contact us!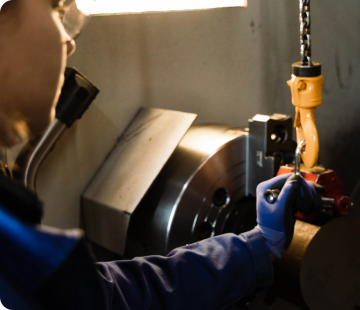 Specification, CNC lathes
Turning parts with diameters up to 600 mm, length 1100 mm
Axis turning of parts with diameters up to 245 mm, length 3125 mm
Automatic turning of parts with diameters up to 75 mm