What distinguishes one metal workshop from another?
For us, quality is the most important factor, and the starting point for everything we do. Quality means that the part meets the customer's drawings and requirements and that it is manufactured of the right material. This requires machines that can meet precise tolerance requirements, and which can produce parts of different sizes and quantities.
Machines are nothing without the people who use them. Our workshop houses 40 years of professional experience and technical know-how - some of the company's original employees are still with us. The knowledge and solid experience that comes from many years of working with different machines and materials is something our customers benefit from every day. This experience and expertise can be found throughout the chain, even in our long-term collaborative relationships that we have carefully built up over the years to meet our own and our customers' high demands for quality and delivery assurance.
Our customers leave the production to us, and trust that they will get what they need, when they need it. We are proud of our good delivery assurance, which is a result of efficient internal processes, motivated staff and clear work procedures. Our goal is to ensure that our work is completed before we go home for the day, and that the customers thank us for our prompt service.
We are driven by long-term development and that the customer gets what they were promised. Cost-effective production and smart solutions mean that we can offer our services at competitive prices, which both we and our customers gain from in the long run.
It sets us apart from others.
Ferromek – We get it right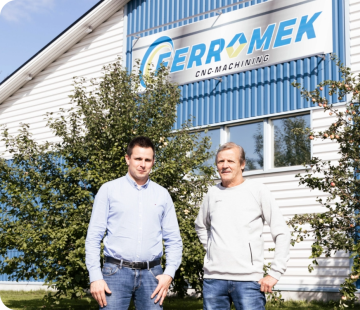 Ab Ferromek Oy
Founded in 1981
Approx. 45 employees
Main products and services: CNC machining, welding, assembly, sale of raw materials
Market area - Finland and internationally
Production and office in Kronoby
Owned by Kim and Bernhard Åkerlund